The festive season is here, and it's time to prepare your home for Christmas. Your dining room or kitchen table is the perfect place to start! A plethora of joyful (sometimes stressful) family meals await, and it's your occasion to showcase your decoration skills.
Need some inspiration? Here are 3 themes to dress a stunning table for Christmas this year.
Theme 1: Invite Nature In
Time to put on your boots, take your raincoat and run to the closest forest with a basket! Not to collect mushrooms (except if you find some on your path), but to stock up on your table's next best friends: pine cones, dried leaves and chestnuts! They make perfect ornaments. Place them around plates or use them to create a central decoration piece. Choose a beige linen tablecloth with autumn patterns that remind nature. Light some candles to bring in the warmth of a campfire. Get creative with napkin rings: dried flowers make the perfect delicate accessory.
 Theme characteristics
Colour palette: use beige and light green tones.
Elements: linen, (fake) fur, wood, hand-blown glassware, pine cones, chestnuts, dried leaves (tip: write your guests' names on a leaf!), pine branches, flowery or wooden napkin rings, candles. Choose a linen table runner with delicate patterns to highlight your nature-inspired decor, and match it with autumn leaves placemats!
Theme 2: Let it shine
Turn your table into the main subject of conversation. Make sure you dazzle people when they enter the dining room - as if they had just walked in on Angelina Jolie and Brad Pitt. Make it glow, and make sure people will talk about it for years and years. 
Okay, we might be exaggerating a bit. But really, there are easy ways to make your table 
literally
 shine this festive season. Put in some gold, let the angels sing their choirs and pick the perfect glassware pairings. Below are the key characteristics of this statement theme.
Theme characteristics
Colour palette: beige, burgundy, golden, silver, pearly white
Elements: pure linen, silver cutlery, porcelain plates, angel figurines, amber yellow glassware, diamond shapes, handwritten notes to make your guests feel like they're VIP. Turn your table into a statement with sustainable linen, diamond patterns and luxurious hand-printed details.
Now, let us announce special news: we found your table's perfect companion! Meet our little angels from the Karoo region in South Africa. They're handcrafted by local artisans in a remote South African village, and each angel carries hope for their communities. Set one statuette for each one of your guests, and let the angels sing their artisan's story. Now that's what we call a golden table. They'll also happily dance around in your Christmas tree. Shop your favorite angels today!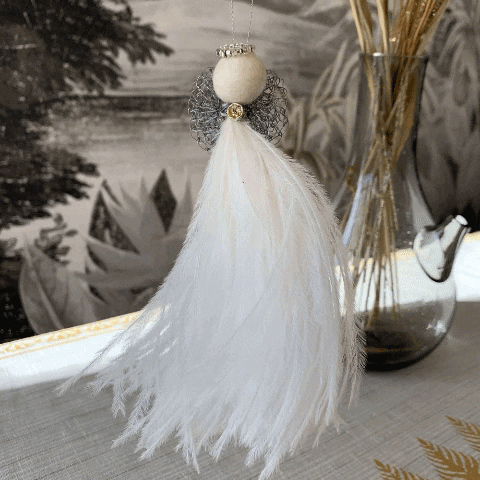 Theme 3: Get funky
Why not break codes this year? Suggest something people have never seen before? Dare to be original?
It's not because Christmas is in winter that we should be afraid to put in some colours! Christmas is also synonym with joy, reunion, delight!
Choose a bright-coloured tablecloth and pair it with colourful hand-blown glasses. Garnish the centre of the table with a flamboyant, pompous flower bouquet, set chairs with jazzy vintage cushions, use a bold table runner, and cook vegan foie gras (okay, now we're going too far).
Theme Characteristics
Colour palette: vivid burgundy, red, orange, deep yellow, forest green, blue, lilac…
Elements: organic cotton, hand blow vibrant glassware, roses and daisies, hand-painted ceramic plates
Colourful place mats and hand-blown transparent glassware make the perfect match! Buy yours in our shop.
So, which theme will you pick for your Christmas table this year?
N.B: If you do us the honour of putting one of our products on your Christmas table, don't forget to tag @beytby2bdesign so we can post it on our IG!